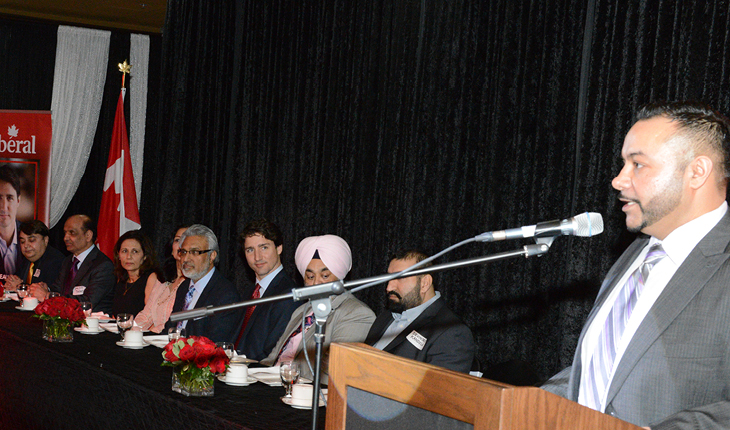 On one of the rare few sunnier spring afternoons in Metro-Vancouver, I first met Bilal Cheema. From the outside, he seems like an average, hard working dad, but I quickly realized when I started talking to him that he is anything but ordinary. He may seem normal, but he has a wisdom that he speaks so simply, it immediately filled me with admiration.
Bilal Cheema was born and raised in Metro-Vancouver. He is Punjabi by culture, and Muslim by faith. While growing up in East Vancouver, he recalls that he and his friends – while from a diverse range of backgrounds – never saw each other as anything but equals. The notion of discrimination by race, culture, or religion was nonexistent. It was when he moved to Surrey in his high school years, that he noticed something different.
In 1990, the city of Surrey was considerably less developed than it is today. At the time Bilal recalls it seemed like moving to a whole new country, or like moving to a village from the city. Things were different here – Bilal can recall places in Surrey where he wouldn't want to walk alone at night. An incident he vividly recalls is at the age of 15 while walking home from a swim, an older Caucasian man started following him and picked on Bilal for who he was on the outside, uttering racial slurs and threatening physical violence. While things didn't get physical, the experience sat with Bilal for some time as he tried to understand if all white people thought this way about people with a different skin colour. The experience, along with the encouragement of his father is what most likely led Bilal on his mission to unite, help, and empower people towards tolerance and acceptance.
One of Bilal's main sources of inspiration still remains his parents. While his father would work double or triple shifts at his union job with a steel fabrication company, his mother was the rock of his large family that kept everyone together and busy, including his brother and sisters. While his father was constantly dedicating time towards community initiatives, he always made sure to carve out time for his kids. Bilal always cherished spending time with his father.
"We always look to the future, but if we don't understand where we've come from (as a collective) and acknowledge what [our parents] have done by coming to a whole new country. …Honour your parents while they're still around. Recognize them while they're still around. Let them know that their efforts didn't go unnoticed – that we thank them for paving the way for us, because surely the opportunities we have today are because of them and the sacrifices that they made."
It was this desire to honour his parents that inspired Bilal to work towards his university degree and more. He can still vividly recall trips in his father's station wagon to the airport on weekends at the age of 8 or 9 to watch airplanes take off and land. During these trips his father would bring home newcomers to Canada from abroad and help them find homes and get jobs. When he asked his dad why he would bring home total strangers, his father would tell him, " 'They needed someone, and I remember when I came, how difficult it was for me. So we need to help people.' It was kind of very simple."
It was also his father that got him involved in politics – his father was politically active, and would bring Bilal along with him to political conventions. As Bilal progressed through university, he got involved in working in the government and would spend summers working in Ottawa and learning how the Canadian government works for a number of years. In his final year at Simon Fraser University, he accepted a position in the Office of the Minister of Fisheries and Oceans, and has since then worked in various capacities for the government of Canada. He has played a significant role in the building of the Liberal Party of Canada, especially across western Canada. He has served as the Campaign Director for Michael Ignatieff during his leadership run in 2006 and has most recently, during the 2015 federal election, successfully managed both MP Randeep Sarai's and MP Joe Peschisolido's campaigns.
Bilal has dedicated his entire adult life to public service. "It's pretty neat," he says, "It broadens your perspective."
Reflecting on his years of service, Bilal thinks about his files and how his contributions, along with many others helped shape public policy.
This is a man who is grounded, and never far from the grassroots. While Bilal's work focuses on policy and how we can build a better future for all, he also gets deeply involved in the community too.
"I do it because I have the capacity and this burning desire to help people, I don't wait for community organizations to take initiatives, I'll take initiative and bring on others," he tells me. He often works independently of formal organizations and focuses on ad hoc groups coming together without rigid structures and titles to work and focus on a project. Bilal draws inspiration from his kids and his desire to want his family and three children to have an even brighter future. He worked intimately with the founder of the Muslim Youth Centre to ensure it was created, on anti-gang violence and keeping youth away from the get-rich-quick schemes that most times involve selling drugs, and approached Mosques, Gurdwaras, and Temples to work together on initiatives around the environment for youth such as the Bear Creek Salmon Initiative while he was a Director with the Pacific Salmon Foundation.
Bilal feels that our faith is something that connects us to our creator, but that we all can do better in connecting with each other as human beings and that when we all stop to think about it, there's more that brings us together as caretakers of this world than divide us. Diversity, he feels, is our strength. Bilal believes in communal responsibility towards creating an environment for success. He feels that communities succeed when everyone works together. Bilal Cheema is often the guy behind the scenes – he doesn't want credit for the work he's doing, he just wants to bring people together to breathe life into good ideas and help ensure they come to fruition for the community.
Another source of inspiration for Bilal is his faith. Bilal is a recognised face around town. While a new age Muslim leader in Canada, he doesn't necessarily lead with his faith. "Why is it so hard to believe that [myself and other Muslims] want to get along with others, or want a community to be much more than one ethnicity and include everyone? Like, is that a hard concept to believe? It shouldn't be – we're all in this together."
He states very simply that so long as he gets recognition from his creator, he is happy. One significant thing he has done recently for his personal faith is Umrah, a pilgrimage that is a precursor to a larger, significant pilgrimage called Hajj. For Bilal, it's just part of his duties as a person who is lucky enough to be able to make the trip. And he'll share with anyone who wants to listen!
"You know, everyone has faults," he says. "We're human. We're all in this together and we need to uplift one another. Why do we always need an enemy? We need to look at the problems [in the world] differently, not through war or force, but we need to realize that some of the things happening in our world today are because of desperation. …Very rarely do we look at the past. Before you look at where you wanna go, understand where we came from."
Bilal's simple wisdom, passion for humanity and for building a better future drive him in everything his does – and it resonates in the people around him. From negotiating with First Nations chiefs to working with political parties and religious groups, Bilal's humility and passion allows him to serve not just his community, but the entire country and beyond for the greater good in ways that most people normally cannot achieve, on more projects that he can even name. Perhaps it's for this reason that Bilal is seen as a cultural ambassador in all that he does.
"The greater good involves everyone. I have a tendency to include everyone. I connect with people, even though I'm just being me. We live in a world of seven billion people, and the ability to establish, nurture, foster and sustain relationships [with communities] needs to be normal."
-Neelam Gandevia