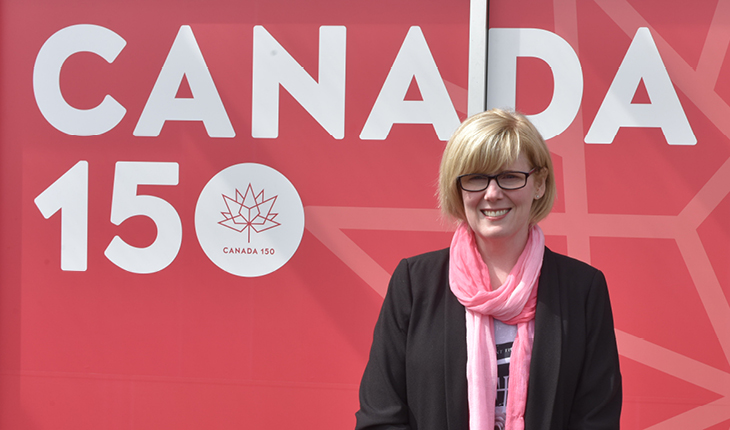 As I enter the room, Minister Carla Qualtrough greets me warmly. We shake hands, and I sit down next to the Federal Minister for Sport and Persons with Disabilities, who also represents Delta in the House of Commons. Although these two government ministries may seem like they have nothing in common, the minister embodies both of these ministries perfectly.
"If you know me, you know that [my portfolio] is a pretty good fit, because I come from a background in sport, and I have a disability. …The Prime Minister managed to take my two passions, sport and disability, and made a cabinet position for me."
Minister Qualtrough's disability is known as an invisible disability, which is a type of disability that is not immediately visible such as visual or auditory disabilities.
"I'm legally blind, so if you saw me in the bright sunlight or trying to read something, then you could probably tell. But a lot of times when people meet me they don't understand that I really can't see very well. What having a disability exposed me to was how people can make assumptions about what you can and cannot do, just because you have a certain personal characteristic. …And those are false assumptions."
Growing up with a disability taught the Minister how to advocate for herself and for her needs, as well as not letting anyone tell her she could or could not do something. She took her passion for advocacy with her to law school, where she became a human rights lawyer and has been advocating for issues related to disability ever since. Minister Qualtrough is currently working on creating new accessibility legislation – a bill of rights for people with disabilities, which aims to proactively help people with disabilities gain access to employment services, transportation, and much more. It aims to remove the barriers for people with disabilities in broad ways across Canada that none of Canada's legislation has done previously.
"It's going to be very cutting edge, we've never had a law like this before in Canada. We have good human rights law, but you have to wait until someone is discriminated against before you can help them. … [This new legislation] is going to be very, very good for all of Canada. It is going to have a big impact."
Minister Carla Qualtrough is also passionate about sports – she swam in the paralympic games in 1988 and 1992 and is an enthusiastic advocate to support sports in Canada in all forms. The Minister has also been tasked to increase the overall sports participation among all Canadians.
"We know that participating in sport is good for your health and social well being. It combats things like social isolation and exclusion. It's also a really powerful tool to address broader public policy objectives. …[Such as] using sport for reconciliation, using sport to address youth at risk, or to address diabetes or teen obesity. There's so many things we can use sport to do. And we're just starting to think of sport not just as an ends, but a means."
On a personal level, Minister Qualtrough is also a mother and works hard to support not only Delta and all of Canada, but also her four children, all at various ages and stages of their lives. She says her kids serve as her reminder of who will inherit whatever she does at work.
"Managing [to juggle work and family] …It's an accomplishment," she chuckles, "But I have a very strong support network …[and] they're exposed to so many unique things. …Of the 30 of us at cabinet, there are 30 kids under the age of sixteen. That's a pretty big deal. There's nothing more humbling when you think you're helping to run a country when you have to go home and potty train!"
The Minister is quick to find the humour in her world, but on a more serious note she adds some heartfelt advice, "Be bold. Don't be afraid to take the path less taken. Some of the best things that have ever happened to me in my life are when I made decisions that make people go, 'why is she doing that', but it's taking me down this incredible journey. As an athlete, you learn there is no substitute for hard work. The advice I would give to people is be bold and dream big, but just be prepared to roll up your sleeves and do the hard work.
And the Minister certainly works hard – she takes pride in her various achievements and the hard work she has done behind the scenes, such as being involved in a national consultation which visited 19 different cities to ask thousands of Canadians what an accessible Canada looked like to them, and what they would fix. She also was a part of a national youth forum where 110 youth with disabilities from across the country sat down with the Prime Minster of Canada, Justin Trudeau, to talk about the barriers they face as young people.
"It's been awesome. It's been a fantastic journey." She beams.
Minister Qualtrough's journey is far from over – Canada's 150th anniversary celebrations have begun, but there's even more in store: "In 2017, Canada is officially 150 years old, and we just think it's time to look back and celebrate what makes Canada so great."
She says to look out for all the various celebrations taking place in communities across the country, as they will all be Canada 150 themed with lots more exciting announcements in the pipeline throughout the year for both signature Canada 150 events that are national in scope, and their legacy, as well as unique community events funded specifically for those places in Canada. With every government of Canada department getting involved, there's something out there for everyone. Not only are there going to be celebrations and community and legacy initiatives across the country, but each of the different departments of the Government of Canada are also finding meaningful ways to get involved with Canada 150 too.
For Canada 150 as the Minister of Sport, Minister Qualtrough and all of Canada voted for a list of 150 truly Canadian activities. That list of activities is now the ParticipACTION 150 Play List and involves activities from curling, water polo, hockey, canoeing, and snowball fights, to fruit picking, the polar bear dip, washing your car, and even raking the leaves and dog sledding. Although there is indeed a contest with prizes for people to win if they complete the entire 150 activities, the Minister publicly announced that she would work her way through the Play List and try all 150 activities.
"It's pretty fun," she smiles, "I did a bunch last week. We did kayaking, surfing, tennis, and hockey."
On the flip side of things, as the Minister for Persons with Disabilities, Minister Qualtrough is working with Rick Hansen on his Access For All initiative, which is a national school program that raises awareness about accessibility issues by bringing local heroes and champions into schools to talk about barriers that exist and how kids perceive disability.
Canada 150 is important to Minister Carla Qualtrough because it allows Canadians to celebrate our community and to find the common themes among all of us.
"It's not where we come from, it's not what religion we practice, it's the things we value. It's fairness, it's equality, it's diversity, it's inclusion. It's all the common values that make our country strong. Talking about these things for a year is not just good for Canada, but for the world. …I think there's no better time in the history of Canada to be Canadian."
Save