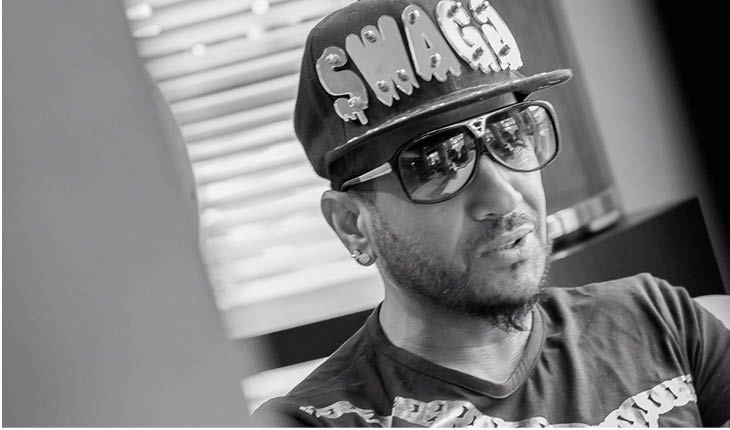 Congratulations to Jazzy B for being inducted into the BC Entertainment Hall of Fame, alongside the likes of Michael J. Fox (a Hollywood star) and Michael Buble (a Canadian singer, songwriter and actor). The BC Entertainment Hall of Fame was founded in 1992 to honour British Columbians who have made outstanding contributions to the entertainment industry. The inductees are featured with a plaque on the Walk of Fame on Granville Street, and a gallery in the Orpheum. Jazzy B, the Crown Prince of Bhangra, is the first South Asian to undergo such an achievement, and we couldn't be prouder! Here's a quick preview of what Jazzy B had to say about the adversities he has faced and his local and international success.
AAJ: Congratulations on receiving such prestigious recognition as a Star Walk honoree by the BC Entertainment Hall of Fame! You've been inducted alongside other superstars such as Michael J. Fox, Marcus Mosely, Hal Beckett, and Joe Keithley. How does it feel to be recognized at this level?
Jazzy B: I never really thought I would receive something like this – an award like this is a big deal. A few friends of mine, Bobby Nagra, Paul Dhillon and Varinder Saul, actually nominated me and didn't even tell me that they did this, until they were sure that I was going to get it. They called me and told me they had news for me and I had to let it sink in for a bit when I found out. A huge thank you to them for nominating me. It's a wonderful feeling. Coming from Surrey, growing up here, I always felt like I was a normal kid and if it wasn't for the Punjabi language, I wouldn't be where I am today. I always tell kids in our community to speak Punjabi. It feels great knowing that I've accomplished something like this.
AAJ: You are the first South Asian person to be recognized by the BC Entertainment Hall of Fame. How does it feel to be first in line?
Jazzy B: It feels great knowing that I am the first South Asian to be recognized. No matter which South Asian gets this award next, they will always mention that Jazzy B was first. It feels great to set up this pathway. My Ustaad used to say in Punjabi: "leehan paunian aukhian, maggar gadda jehda marji kichhi jaave." It's hard to make a trail, but anyone can walk on that trail. It feels great to know that I'm a trail blazer.
AAJ: Was receiving this recognition one of your goals during your career, or is it just something awesome that happened?
Jazzy B: I never even thought about this award. I didn't even know it was possible for me to achieve this. Even in India, I was trying to explain what it was exactly, and I had to explain in Punjabi that they were going to put my name on Granville Street. That's when people realized it was a big deal. It never crossed my mind that I might be recognized like this.
AAJ: Tell us about your new song, Dynamite. Where did you get inspiration for this song?
Jazzy B: Roach Killa from Toronto always looked up to me when he was growing up, since we were both from Canada. He raps and does reggae. One day he said "Paaji, come on man, we have to do this" so I met up with him and we started talking and planning it out. The song is written by GV and I didn't change anything in it. I liked it because it's different. Anyone can understand it, whereas my stuff is usually a deep Punjabi and not many people get it. This song is a straightforward song and people really like it.
AAJ: You've broken barriers and reached levels that some people only dream of. When you first started out, did you ever think you would reach the point at which where you are today?
Jazzy B: No, I didn't think I would ever reach the level I've reached today. There is no one else in my family that sings, and many people didn't consider singing as a career. Some of them still don't actually. My mom and dad, brother and sister, often said go to school and study but clearly God had different plans for me. I didn't undergo any training. I followed Ustaad Kuldip Manak-ji from the very beginning. I always used to listen to his songs, cassettes, records back in the day. I used to work with a guy named Tarlok Singh Kooner, who used to live in our basement. I used to work with him on Friday, Saturday, Sunday for pocket money. I used to sing when I was working, and he is the one who recognized me and noticed that I could sing. He said "wow, Jazzy, teri awaaj vadhiya" (your voice is excellent), and "we should do something." That is how we started our first album Ghugian da Jora. If he didn't spot me, I wouldn't be sitting here right now, talking to you guys. Back in the day, he spent $5000 on me – he was my boss, but he saw that talent in me. He is the one who planted that seed, and he didn't do it for any money or to get something out of it; he just saw the potential in me.
AAJ: What is your proudest moment to date?
Jazzy B: There are many proud moments, but the one that tops the list is when my daughter was born. She's a lucky charm for me. The same year that she was born, my album O Keri was released. For me, that is the biggest album. Naag was a huge hit.
AAJ: You overcame so many obstacles when you were starting your career as a Punjabi singer. In the face of adversity, what pushed you to keep going? What motivates you to get up in the morning and keep doing great things?
Jazzy B: My fans are my motivation. When I first started (I was born in India, but grew up here), I used to listen to Easy-E and NWA, Motley Crew and stuff like that. Fashion was the first thing for me – wacky hairdo, stuff like that; it was part of who I was. Even back in the day, a lot of people used to say "teeri awaaj vadhiya, par tere vaal ni teek; changi tera kaar" (your voice is good, but your hair isn't; do your hair properly) so I was used to that, but I believed in myself. Even now, times have changed, and it's all about social media. You can say anything about anybody, and some people do diss me. I don't mind that – I take that as a positive thing, as the fact that people are noticing me. Why are they looking at my account if they don't like me? People, whether it be my fans or my haters, are where I get my energy from. It keeps me going. You need friends who tell you you can do better (this song could be better or this video could be better), but you also need those people on social media who say "you're nothing now." I say "okay, I'll prove it to you with my music." That's what I do – I don't talk back or write anything back on my social media. I just prove it with my work. I think that is the best medicine.
AAJ: You've touched so many lives in ways you don't even know. We'll give you two personal examples. My cousin is a huge fan of your song Soorma and it acted as a source of motivation for him. He listened to this song every day for months on end, while he was studying for his MCAT for medical school. He ended up acing his exam and got into Medicine on his first try. Another story is that I first saw my fiancé at one of your concerts in Winnipeg. He was dancing by the stage and I was in the third row. These are 100% true stories. How does it feel to know that your music inspires and brings others together?
Jazzy B: Wow, these are great stories. I've heard stories before but nothing like the Soorma story you just told me. Usually when people talk about the song Soorma, or when they are listening to it, they are working out in the gym, you know what I mean? It pumps you up. I would love to share this on my social media. It feels great to hear stories like this. By the way, Vaadiyan (congratulations) on your engagement. I'm a matchmaker too now! I'm cupid! It's great to know that I'm touching the lives of people I don't even know, and in a good way. I'm blessed – I thank God every day for that. I consider myself lucky that I have this platform. My music is all about bringing a smile to your face. I want people to feel a positive energy, and I get that from my dad. I share stories about my parents in my music, and I see people cry and I see that I'm touching their lives. It feels great that I have the ability to do this. It's amazing to know that my music is inspiring people to do great things in their life.
AAJ: What is your next big goal – something you really want and are working towards?
Jazzy B: My goal is to make good music. I don't really plan too far ahead; I take things a day at a time. I never rush things in life and I'm very laid back. I believe that slow and steady wins the race.
AAJ: What is some personal advice that you live by?
Jazzy B: I take my time with my music and videos, and I have to be really satisfied with myself and happy with the song before I release it. My Ustaad-ji used to say "apne aap te maan hona chaida pehlan" (you have to believe in yourself first) before other people believe in you. I use this advice in my own work and also always tell kids that you should believe in yourself and don't let people put you down. You can do anything in the world.
AAJ: This upcoming issue of AAJ is one that covers history in the making. So many big things have happened recently: our Prime Minister issued an apology for the Komagata Maru incident, Muhammad Ali passed away, and you just got inducted into the BC Entertainment Hall of Fame. First of all, how do you personally feel about the Komagata Maru apology?
Jazzy B: I think the apology was great. You can tell right away that Justin Trudeau is the right person for our country. Not only did he apologize for this incident; he celebrated Vaisakhi, and that is a big thing. There are people in our own community who don't even celebrate it. He does some wicked bhangra too! The apology was long overdue, but he was the right person to do it. I believe him and he seems very genuine.
AAJ: We know that you've made history, but how do you personally feel? Do you think you've contributed to history? What do you feel your contributions are?
Jazzy B: My contributions are definitely my music, and when I first started out a lot of youngsters were ashamed of speaking Punjabi or listening to Punjabi music. I think I helped changed that. Now, Punjabi music is played all over the world. It's being played at clubs, in movies, in taxis. I think my biggest contribution has been that I changed people's lives by doing what I love doing – singing in Punjabi. There is western influence in our music now, and I think I've contributed to this. I hope I've made a difference. You told me some stories, and it feels good to know I've affected people's lives for the better.
AAJ: Let's move on to a couple of creative questions: What is something you think every person should try at least once in their life?
Jazzy B: Everyone should try to be their true self one time and just take a risk. There is always something everyone wants to do, but something is stops them from pursuing it. I am a risk taker – I take risks every day: with my hair style, with my songs. Whatever you want to do in your life, just go for it. You have nothing to lose. The worst thing that could happen is that it might not work; but then you can't say you didn't try it.
AAJ: What is something that you want to cross off your bucket list but haven't been able to yet?
Jazzy B: I've always wanted to meet Wayne Gretzky. I was his biggest fan when I was growing up, and I still am – I used to tuck my shirt like him, and did a project on him in high school; I have a puck signed by him, and his jersey. I followed him wherever he went, and it is still my dream to meet him.
AAJ: What is one thing that you wish you knew when you were younger?
Jazzy B: I wish I knew my wife when I was younger – let's put a smile on her face!
It feels great knowing that I am the first South Asian to be recognized. No matter which South Asian gets this award next, they will always mention that Jazzy B was first.
Navkiran Brar
Managing Editor
Editor of AAJ Magazine, is a well rounded professional, with a passion for writing, academics and entrepreneurship.